A single word seems to be standing out when it comes to describing this shared experience we are having in relation to COVID-19 and the resulting quarantine/stay-at-home orders/social distancing requirements. The word is WEIRD. I've heard it over and over again from a wide variety of people. This whole thing is just…weird.
And I gotta tell you, they're right. This thing is weird. Everything about it is weird. It is truly bizarre to be sitting in southeast Arizona watching events unfold almost three thousand miles away in New York where the city looks like a war zone and try to have it equate here in my little town where we continue to just wait. And wait. And wait.
We don't know what to do. We haven't had a new positive test for COVID-19 in our county in almost a month. Let me stop here and express how truly grateful I am for that development. I know how lucky we are. But it is hard to be on shutdown when no one is sick. I'm not advocating we open everything back up. I don't have enough knowledge or experience in epidemiology to ever be so bold. I'm just saying, it's weird. The closest thing I can compare it to is 9-11. That was a national (whereas this one is a world-wide) shared experience that those of us in a rural portion of a western state would never actually share in directly. We could only witness the horror through our television screens and then marvel when the only real change in our lives was the absence of airplanes flying overhead for three to four days.
Don't get me wrong, I am so glad my little valley has never been targeted by terrorists. I hope and pray it never is. I also hope and pray that COVID-19 leaves us comparably alone. But it does lead to a feeling of…I don't know. It's just weird.
In light of this observation, I want to document some of the things that have occurred in my life or that I have seen that I have never seen before and possibly will never see again in my lifetime. Some of them, I hope I never do. Others? Well…
The Pictures
I have been fascinated by some of the pictures I have seen from around the world of places that are always so full of people, now just…empty. Some of my favorites can be found below.
The Togetherness, Apart
Celebrities have been taking it on the chin for not being sensitive enough to the plight of the middle and lower classes, not being humble enough, not being…whatever. But how awesome that a group of celebrities who have no motivation-other than to be kind to a little girl they don't know, who can't offer them anything in return-would do what these impressive individuals did for a 9-year-old girl who missed out on a birthday dream due to the COVID-19 restrictions. I think a key lesson here is to remember that celebrities are people too. And in situations like COVID-19, we're really all in this together. (Also, the whole concept of SGN is awesome. I've always liked John Krasinski, but I am now a fan for life.)
The Coming Together
During the annual worldwide conference of my faith held this last weekend (entirely via technology), the leader of the Church of Jesus Christ of Latter-Day Saints called for a worldwide day of fasting and prayer to be held this coming Friday, April 10. The day is widely recognized throughout Christianity as Good Friday. The response on social media has been amazing to me and has served as a reminder to me that the silent majority of this world is filled with good people who genuinely care about their fellow human beings, regardless of politics, nationality, faith, race, ethnicity, or any other silly division that suddenly is of little consequence. Here is a small sample of the social media responses the above mentioned invitation for a day of fasting and prayer by the leader of the Church of Jesus Christ of Latter-Day Saints has received (Acknowledgement to the website thirdhour.org which compiled the following examples plus many others):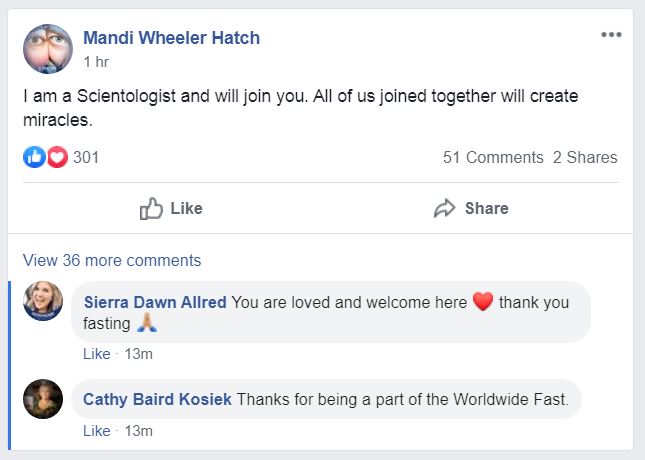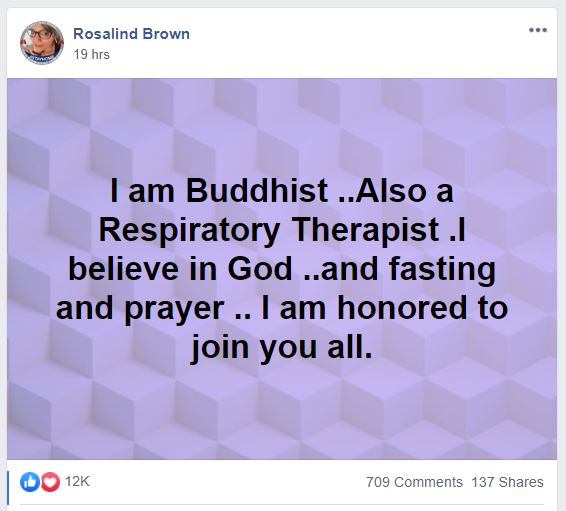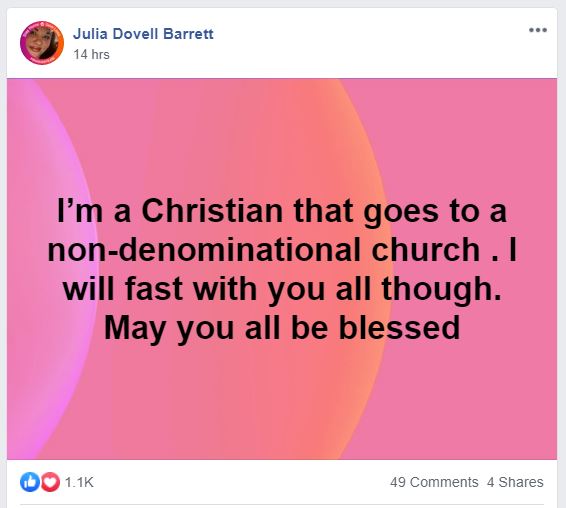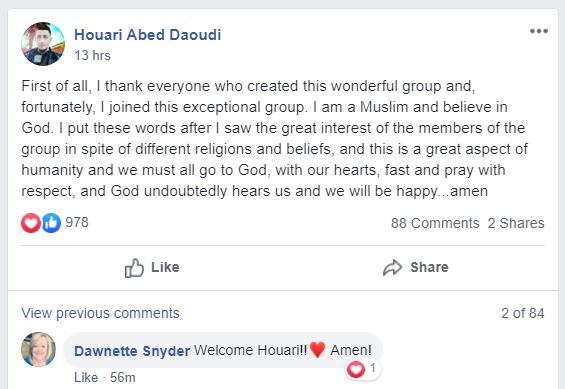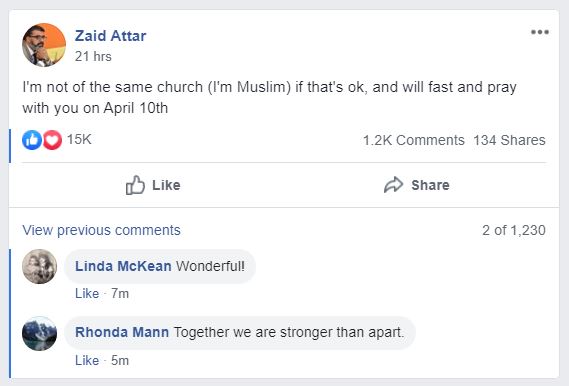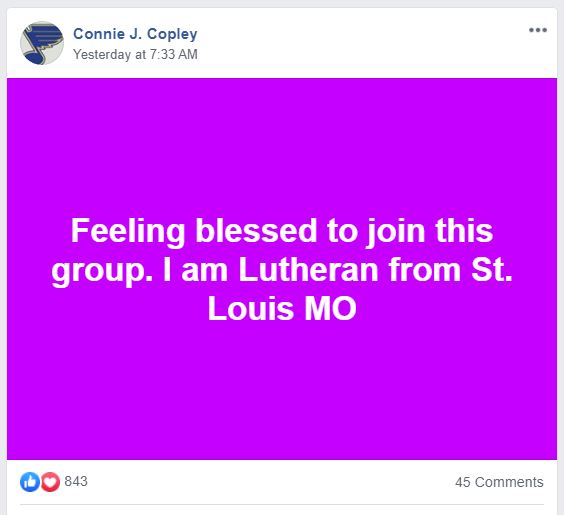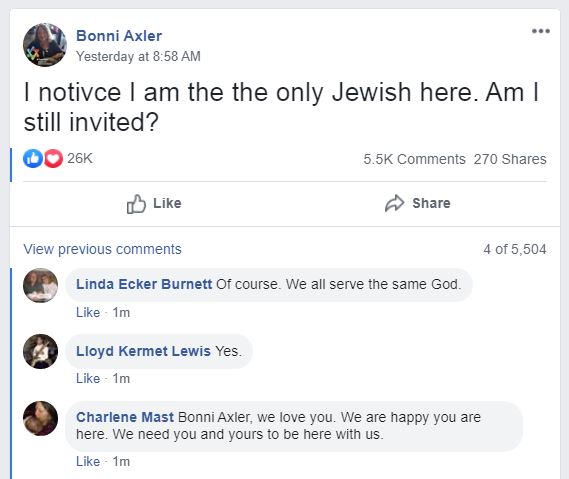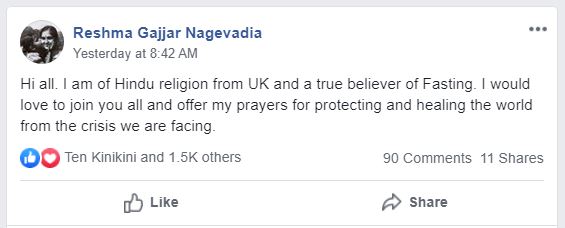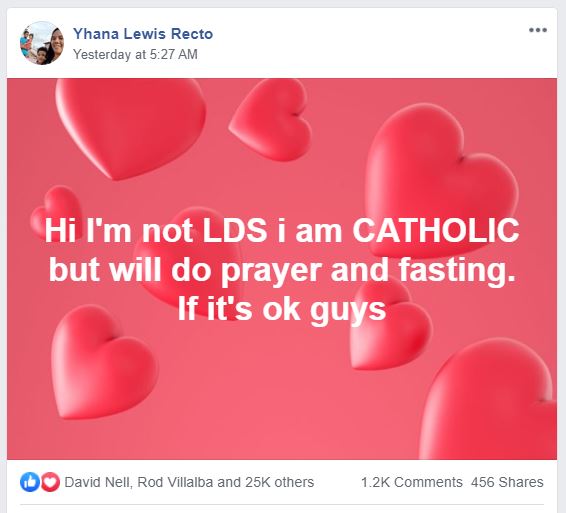 The Historical on a Personal Level
Finally, as I mentioned in my last post, this time has been really tough on my 18-year-old senior who is now missing out on a number of different "milestone" events in his young life that he will never get back. For a young man who is a member of the Church of Jesus Christ of Latter-Day Saints, one of those moments is receiving the Melchizedek Priesthood. This priesthood is acknowledged in our faith as the authority to act on God's behalf through, among other things, giving blessings and administering certain ordinances important to members of our faith. When this happens for a young man, he is presented to his congregation for a sustaining vote of support. Without this sustaining vote of support, the priesthood cannot be conferred. Currently, no church meetings are being held ANYWHERE and the opportunity for my son to be presented to his congregation is not going to happen for some time. However, to my pleasant surprise, local church leaders have determined that in our technological world, a young man can be presented to his congregation via email. To my knowledge, this has never happened before in our little corner of the world. It certainly has not happened to anyone I know. So for us, it is historical. It is memorable. And despite some feelings of missing out on the norm, in years to come it will be personal to him and his children. It will be his historical moment that may never be repeated again in his lifetime.
Conclusion
As social distancing and "quarantining" stretches into week four (for those of us in Arizona at least) and we see the literal death toll continue to rise across the world, I will admit it has been hard. It's been hard to sit still and do what is expected of us. It has been hard to fully grasp the hard times we have ahead as we try to recover a world economy that got shoved into a freezer for a couple of months. It has been hard to see the petty politics play out on a canvas that highlights how pathetic petty politics truly are.
But through all this…weirdness, there has been so much good to behold. By and large, I believe we are good people. And so far, that is what I will remember from the days of COVID-19. It is a similar memory to the one I carry from the days immediately following 9-11. Deep down, we really want to be good to each other. Maybe when times get better, we can remember that and put a little more effort into doing so.